Lebron James is rarely seen without some sort of headwear. From his signature in-game headband to a satirical crown, Cleveland to Miami, his head is covered in style more often than not. We've compiled our top 5 hats that King James has been seen sporting.
5. For Every King, a Crown
I doubt he's wearing it out in public, but still can't help love the jaunty headpiece that allows Lebron to look the part of his beloved nickname. Bow down.
4. Turn Up the Brim, Bring Up the Collar
A recent postgame interview showed Lebron battling the early-season cold with a turtleneck sweater and a wool fedora with an upturned brim. You can put together a similar look with a Wool Silko Diamond Crown Pork Pie from Bailey of Hollywood and your favorite turtleneck sweater.
3. Lebron Gets Happy
When you're the king, sometimes it's okay to cop someone else's style. Here's a throwback to last April when Lebron took a page out of Pharrell's book and rocked a lid similar to the one Pharrell wore to the 2013 Grammy's. Fortune favors the bold, and you've got to hand it to Pharrell and Lebron for pulling off an unconventional look with this Mountie-inspired hat.
2. Classic Fedora, Timeless Class
Lebron James went with a classic Borsalino fedora in a GQ photoshoot. You can achieve a similar look by picking up a Stetson Getty Wool Felt Fedora and pairing it with a deep-v sweater.
1. The View From the Top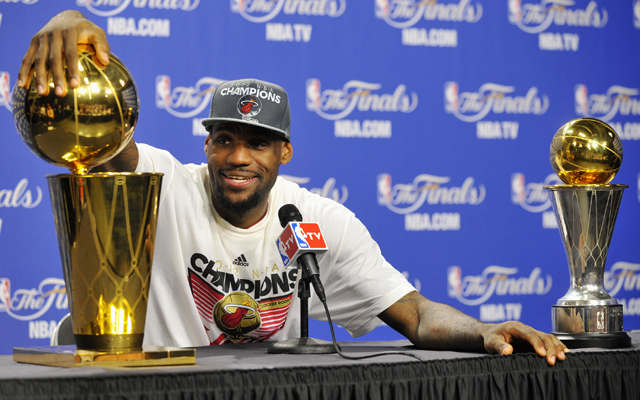 A pair of trophies and the hat of a champion. This is what a man on top of the world looks like. There might not have been a bigger moment in Lebron's career than the first time he was crowned an NBA champion and a Finals MVP. We can't sell you one of these lids, but I think we all know that this is the look that James was born to wear.